Feyzi Alejeff was born in the Mishär Tatar village Aktuk in 1919 and probably arrived in Finland as a small child. He served as corporal in the II/JR4 mortar platoon in Kuuttilahti at Syväri (Свирь,
Svir
) on the 26th September 1942. The Russians had observed the location of his mortar, and the company was ordered to move the mortar into a new position. Thus, the men had to move from the protection of a
korsu
dugout to tent lodgings. In the dark autumn evening, the men were making tea and ersatz coffee, while Feyzi was searching for some entertaining program on his private radio. Probably the light and sparks from the stovepipe revealed the position of the tent to the Russians, who fired a light machine gun round into it. A bullet hit Feyzi in the head; he died in the forest, unconscious, on the way to the field hospital.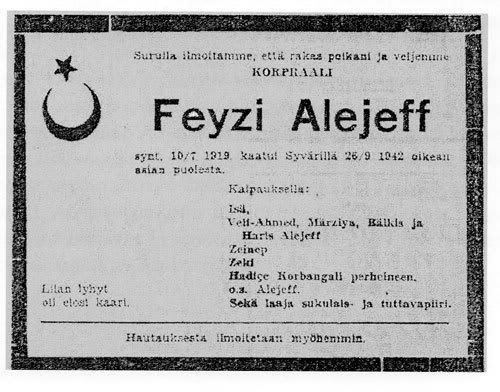 His family published this obituary.